2024 Network Meeting: Thailand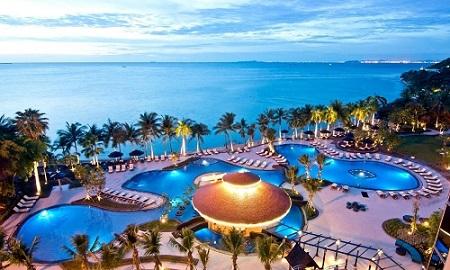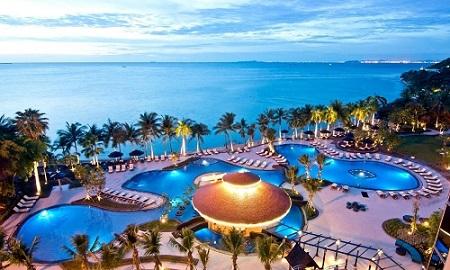 Meeting face-to-face and building closer relationships (and friendships) is a valuable tool in forwarding, which shouldn't be underestimated. Knowing who you are speaking to automatically builds confidence. See our photo albums.
We are delighted to announce that our 21st Network Meeting will be held from 18-20 February 2024 at The Royal Cliff Hotel in Pattaya, Thailand.
The Royal Cliff includes 4 hotels to suit different lifestyles and is the winner of several awards. View resort map.
Thailand has long been a favourite destination for international meetings, but we wanted to give a more relaxed alternative to Bangkok without the added complication of connecting flights to the islands … so we chose Pattaya. A stunning beach destination perched on Thailand's eastern Gulf coast and just a 90 minute taxi ride from Bangkok Airport (Suvarnabhumi Airport).
Our First Chance To Meet!
We will meet on Sunday evening at the stunning setting of the Sky Aquarium Infini Pool overlooking the Gulf of Thailand for a Welcome Drink and to collect name badges. We will then settle down to a delicious International Buffet. We have organised a private DJ to help us dance the calories off and the evening will end with an exclusive firework display! Spouses who have paid their additional fee are welcome to join us.
1-2-1 Meetings
Our main meeting takes place in Royal Summit Chamber A&B. Once the Registration Fee is paid, delegates are able to pre-arrange 1-2-1 meetings prior to arrival. Our online system has thought of everything so our delegates will be fully prepared with all the necessary information including an easy to read schedule for mobile devices. See example. Additionally, as the system is 'live' which means you can book new meetings during the event if an existing one is unable to go ahead for any reason – maximising your time and ensuring that you get a chance to meet as many companies as possible.
Group Dinner & Disco
On Monday evening, we have arranged an exclusive Thai/European Group Dinner & Disco at the Grand Pool Rooftop. Spouses who have paid their additional fee are welcome to join us.
Accommodation
The Royal Cliff Hotels Group takes great pride in ensuring their guests enjoy the most relaxing and comfortable stay - see factsheet. All areas of the resort, from the rooms to the exquisitely landscaped gardens have been totally upgraded and refurbished. As a result, their four hotels conform to, and even exceed, the five-star standard. In addition, guests staying at Royal Cliff are offered a myriad of facilities and activities in which no other hotel in Pattaya can match. UFO delegates will receive a special 10% discount of their bed & breakfast rate when booked directly and the promo code will be provided upon registration.
Thai Airways International
Thai Airways is pleased to offer the 'Best Bookable Fare' for delegates traveling to attend our meeting. Details will be provided upon registration.
Fundraising
UFO recognises the importance of actively contributing to charitable causes and that a small effort from each Member can make a big impact on those in need. Obviously, there is no obligation for any Member to take part in the fundraising. We simply want to present the opportunity for those who want to participate. Each year, we carefully select the recipient as we want our money to make a difference. We are aware that many organisations survive solely through charitable donations and they can't help others without people helping them. For 2023, we will be supporting the SOS Children's Villages Thailand, which since 1971, has been helping children who have lost their parents in the form of long-term, family-like care. During the booking process, you will be asked which amount you would like to donate and this will be added to your Registration Fee invoice. Please click here to read more about the UFO Foundation.
No Registration Deadline
Online registration closes at 12:00 GMT on on 12 February 2024.
To register your place, please log-in to our Meeting Hub (from January 2023).
---
---
Next Virtual Event: 9th-13th October 2023
Every 6 months, the UFO team allocate a series of consecutive days where all Members are invited to participate in virtual meetings (at no extra charge). Members can set their local time zone and then instantly view the agenda so that they can make themselves available or unavailable in the dedicated meeting slots. The next Virtual Meeting event is from 9th-13th October 2023 - the perfect opportunity to follow-up on our face-to-face meetings! See our Meeting Hub.