UFO distribute a Digital Newsletter to all Members every 6 months. Each issue includes articles on Member's projects, staff changes, the latest companies to join, reminders of membership tools, official updates, features etc.
Combined with the Network News section of our website, we offer our Members pro-active management and up-to-date information.
Subscribe now and a link to each digital issue will be delivered to your inbox every 6 months.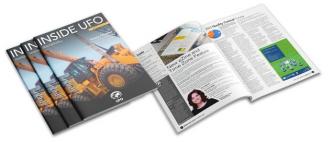 | Date | Title | Action |
| --- | --- | --- |
| 1st July 2022 | Inside UFO: July 2022 | view |
| 1st January 2022 | Inside UFO: Jan 2022 | view |
| 1st October 2021 | Inside UFO: Oct 2021 | view |
| 1st July 2021 | Inside UFO: July 2021 | view |
| 1st April 2021 | Inside UFO: April 2021 | view |
| 1st January 2021 | Inside UFO: Jan 2021 | view |
| 1st October 2020 | Inside UFO: Oct 2020 | view |
| 30th June 2020 | Inside UFO: July 2020 | view |
| 1st April 2020 | Inside UFO: Apr 2020 | view |
| 1st January 2020 | Inside UFO: Jan 2020 | view |
| 1st October 2019 | Inside UFO: Oct 2019 | view |
| 1st July 2019 | Inside UFO: Jul 2019 | view |
| 1st April 2019 | Inside UFO: Apr 2019 | view |
| 1st January 2019 | Inside UFO: Jan 2019 | view |